After completing your booking, it is important that you complete a short questionnaire to help us tailor your consultation. It will only take approximately 2 minutes. If you require support to complete, please contact our patient services team on 0800 086 1064 or email eyecare@optegra.com.
To see how your personal data is processed, please visit our Privacy Policy
How Much Does Cataract Surgery Cost At Optegra?
Transparency is key for us, and we offer one clear set price for our different types of cataract surgery. The cataract treatment most suitable for you will be determined according to your personal needs during our free initial consultation. We offer a range of helpful financing options, including up to 24 months completely interest free, to ensure the cost of private cataract surgery is accessible to all who need it. Our indicative price range is below:
Standard Cataract Treatment
Cataract surgery with monofocal lens
Enhanced Cataract Treatment
Cataract & astigmatism treatment with a toric lens
Advanced Cataract Treatment
The most advanced cataract surgery using a multifocal lens
Types Of Cataract Surgery
At Optegra, we pride ourselves on offering every patient a personalised approach to cataract surgery, tailored to your requirements and lifestyle.
We offer two different procedures for treating cataracts, both of which involve surgery. The treatments are similar in the sense that they both involve the surgical removal of the cataract which is then replaced with a permanent artificial lens. The main difference between the types of cataract surgery is the procedure and the type of lens involved.
Standard Cataract Surgery
Our standard cataract surgery, available privately or through the NHS, involves removing the natural lens and replacing it with a synthetic intraocular lens (IOL). IOL lenses perfectly mimic the eye's natural lenses, making it a great option for this type of surgery.
Standard cataract surgery is best suited for someone with a less advanced cataract, and for people with little to none other general eyesight problems such as short sightedness or astigmatism.
What happens during standard cataract surgery?
Cataract surgery is an operation that is performed under local anaesthetic. The cloudy lens (cataract) is quickly removed, taking approximately eight minutes per eye,  and is replaced with a synthetic intraocular lens (IOL) designed to last a lifetime. This type of cataract surgery provides good distance vision but usually means you will still be reliant on reading glasses after the procedure, or you can have good reading vision and choose to wear distance spectacles. The lens used for this type of treatment is usually a mono-focal lens. 
What to expect after standard cataract surgery
Cataract surgery is a day case procedure. You will be given medications to help keep the eyes comfortable and instructions to follow on how to use them.  You are advised to invite someone to help you get home safely; cataract surgery recovery is usually quick and you will be advised at your one day postoperative check about the activities that are safe to resume.
Refractive Cataract Surgery
Alternatively, we offer refractive cataract surgery, a more advanced type of cataract surgery, which uses a similar technique but replaces the natural lens with a permanent advanced multi-focal lens. Multi-focal lenses can help to correct refractive errors at all distances, such as short sightedness and long sightedness, so you can experience better vision than you had even before the cataract developed. A variety of different lenses are available for different needs, and your surgeon will be able to advise you on the best option for you. This form of cataract surgery uses state-of-the-art femtosecond laser technology. Many patients are rendered spectacle and contact lens free after this procedure.
What happens during refractive cataract surgery?
Your surgeon will apply local anaesthetic to the eye area, which will have a numbing effect.
The surgeon removes the cataract by creating a tiny incision  to access the lens of the eye – although awake, patients do not experience pain due to the local anaesthetic.
Once the cataract is removed, the surgeon implants the synthetic lens. This procedure has been performed thousands of times and typically takes just 20 minutes per eye. If you wear glasses for reading, distance or near vision, or wear bifocal, varifocal or multifocal contact lenses, refractive cataract eye surgery may be the answer you're looking for.
You will see the same surgeon throughout the course of your treatment, from your initial consultation and surgery to the aftercare you receive after your cataract surgery. This guarantees the best level of care. We also use the most innovative technology available, to ensure the very best results.
What to expect after refractive cataract surgery
Similar to the standard cataract surgery, patients are usually welcome to go home shortly after the surgery operation, accompanied by a friend or relative to help you get home safely. The aftercare period is also similar.
YAG Laser Capsulotomy
At Optegra we're also pleased to offer YAG laser capsulotomy treatment, which corrects postoperative complications which may develop in the months and years that follow cataract surgery. 
Post op complications are rare at Optegra, given how safe cataract surgery is. However, if you do happen to develop posterior capsule opacification following cataract surgery at one of our clinics, we offer corrective YAG laser capsulotomy treatment. If you have had the standard or enhanced cataract procedures, YAG treatment costs £550 for one eye and £825 for both eyes. If you have had the advanced cataract procedure, YAG laser capsulotomy treatment is free within one year of your surgery. There is an initial fee of £300 for YAG consultations.
Good experience

I have just been discharged by the doctor from having cateract operation in August . The whole experience has…

Vivien Boswell

I was discharged yesterday from…

I was discharged yesterday from Optegra Didsbury Manchester after having multifocal lens replacement on both…

Ros Usher

I am not writing reviews often but…

I am not writing reviews often but Optegra Birmingham clinic staff fully deserve it. I would give 6 stars if…

Sara Townsend

First class service

Optegra – Consultant Ophthalmologist Mr Shafiq Rehman Eye Hospital Yorkshire. Refractive Surgery. I booked a…

Mr J T Stother

Corrective lense surgery

About five years ago I had lense replacement surgery at Optegra in Bradford. Unfortunately I recently had a…

Jacqueline Lodge

Excellent service

Very happy with my new eyes. The staff at the Yorkshire clinic were very friendly and professional. I was…

Alison Lambert

Fantastic from start to finish

Fantastic from start to finish. The initial consultation was very thorough and I was given the opportunity to…

Janet Worthington
When To  Have Cataract Surgery
There is no non-surgical treatment for cataracts. The only option to restore sight is to remove and replace the natural lens with cataract surgery.
However, it is not the case that a cataract should be removed simply because it is present. For many people, a cataract will have no real impact on day-to-day life, and in such cases, it is not recommended to have cataract surgery unless the impact on vision worsens.
Unlike laser eye surgery, cataract removal on the NHS is not an elective procedure and should only be carried out if deemed necessary by you and your surgeon. For example, if reading has become difficult, driving is impossible, and quality of life is impaired, these are all reasons for considering having cataract surgery.
It's important to realise that it is always you, the patient, who has the final say about whether you have private cataract surgery. Our world class surgeons can help you understand what is involved and advise you on the best way forward, but it is up to you to decide if it's for you or not.
Your own age and personal circumstances may become a factor in this decision. Some patients feel they are never too old for treatment, whereas others decide it might not be a good idea at this time in life. Whatever you decide, it's up to you. Learn more about who qualifies for cataract surgery.
Why choose us for cataract surgery?
By Optegra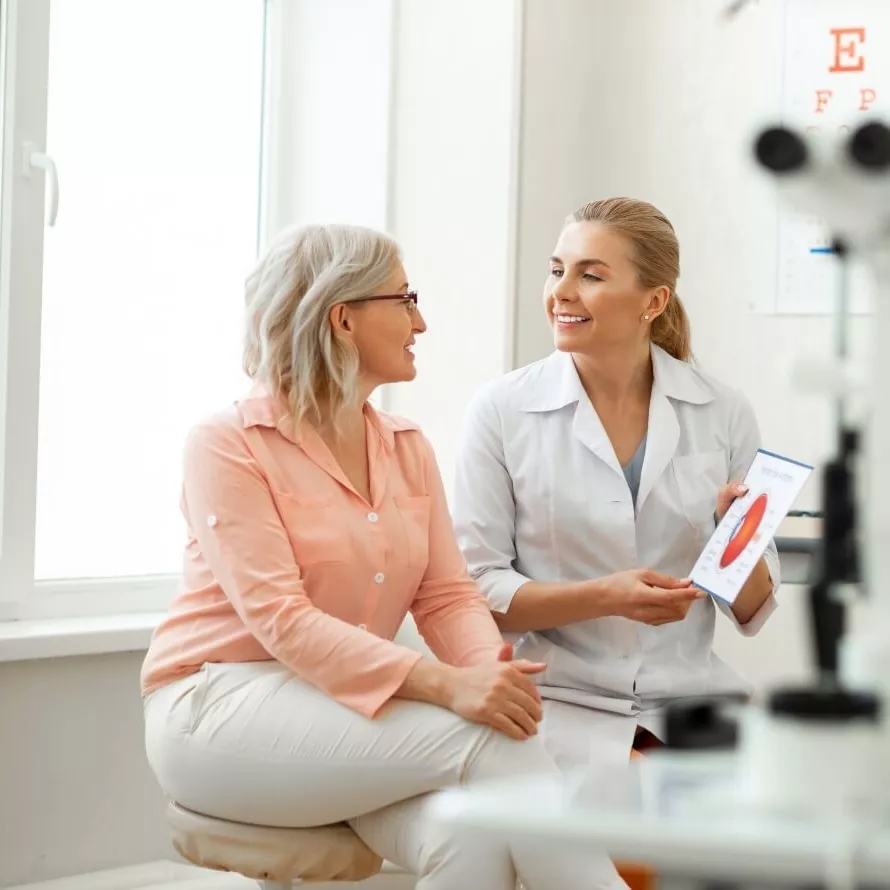 The Benefits of Private Cataract Surgery
No waiting list
World renowned, NHS trained surgeons
Access leading treatments not available on NHS
Over 1.3 million patients treated
Free consultation worth £300
Treatment to see clearly without glasses while removing cataract
Recommended by GP's, Surgeons and Independent patient review sites
Top rated eye hospitals
Highly affordable
Why Choose Optegra For Private Cataract Surgery?
Optegra is a great place to come for cataract surgery
Dr Amir Hamid
Consultant Ophthalmic Surgeon
When it comes to your treatment day for cataract surgery, you'll be in good hands with Optegra. Our cataract procedures are performed in one of our dedicated eye hospitals by our industry-renowned cataract surgeons and are available privately or through the NHS. Having carried out thousands of successful treatments, all our consultants are NHS trained and Fellows of the Royal College of Ophthalmologists (ROC).
We pride ourselves on our dedication to every patient, which is why our consultants are fully supported by specialised teams with years of expertise in the field, ensuring that you receive the best treatment possible as well as the highest level of care before, during and after your cataract surgery. Learn more about cataract surgery aftercare at Optegra.
By Author: Amir Hamid
Mr. Amir Hamid is our Medical Director for Vision Correction and an expert refractive surgeon, based in London.
Free Information Pack Download
As cataract surgery is done quickly and only to a small area, patients are usually awake during the procedure. Anaesthetic makes the procedure painless but if you are very anxious you can request a mild sedative to help you relax.
The operation itself is pain free. You will be awake during the procedure; however, we will use a local anaesthetic to numb the eye and the area surrounding it. Afterwards, you may experience itching and mild discomfort, which is normal. This should disappear in just one or two days.
The answer, essentially, is no. While each patient is different – and it's up to you and your surgeon to determine whether cataract surgery is the best option for you – your age is not necessarily a limiting factor. In fact, successful cataract operations have been carried out on patients as old as 109, with good results. 
Estimates suggest that around half of people aged 75-85 have experienced some vision loss due to cataracts. Yet, while it is a condition that primarily affects older people, the condition can come on as early as your 40s or 50s, and in rare cases children can even be born with a congenital cataract.
Of course, the severity of the problem varies from person to person, but over time the cataracts will cause a partial, and ultimately, a complete loss of vision. However, the good news is that it is almost always treatable. Around 95% of people who receive cataract surgery find that their vision returns to the level experienced before the cataract developed.
As mentioned above, age is not necessarily a factor that limits cataract surgery. However, there are certain conditions and circumstances where it might not be best to undergo the treatment. These can include some of the following:
Underlying

eye

conditions

– Conditions such as active

diabetic retinopathy

or active

wet macular degeneration

might limit what can be achieved during cataract surgery and affect the results expected.
Previous eye trauma – If you have suffered any prior eye damage in an accident then this may be a limiting factor.
Stage of cataracts – Some very advanced forms of cataract may not be treatable, but this only applies in very few cases.
Genetic conditions –

Keratoconus

and Marfan's syndrome are two genetic conditions that can make cataract surgery difficult.
Pre-existing conditions –

Glaucoma

, uveitis and other conditions affecting the eyes might also prevent surgery.
Cataract surgery typically takes between 8-20 minutes per eye, with no need to stay overnight following the procedure. Your sight will begin to return a few hours after the procedure, as you head off to recover in the comfort of your own home.
You will not have to stay in hospital overnight after cataract surgery. The surgery itself only takes a few minutes and most of your cataract surgery recovery can be done in the comfort of your own home.
You must arrange for transportation to and from the hospital on the day of surgery as your vision will be slightly blurred. We advise bringing a friend or family member along with you.
After your cataract surgery, your vision will be blurry at first and you may be asked to wear a protective patch. Your sight should return a few hours after the operation and your vision should improve quickly over the next week or two, reaching its optimum at 4-6 weeks.
Most patients who have undergone cataract surgery are able to resume driving 24 hours after the procedure. You will need to arrange alternative transport home from your surgery on the day, ideally being driven home by a friend or family member. Your surgeon will give you tailored advice on returning to driving which is specific to your recovery, as part of your one day postoperative check.
If you are suffering loss of vision in both eyes, then cataract surgery will usually be carried out on both eyes, a few weeks apart. Although the risks are minimal with this procedure, it is not entirely risk free and therefore by keeping the operations apart, adequate healing can be ensured for the first eye before treatment is undertaken on the second eye.
No, once a cataract has been removed it cannot return to the same eye. The artificial lens which replaces your eye's natural lens in surgery does not allow cataracts to build up, leaving you with clear vision after the treatment.
Cataract surgery replaces the natural lens with a clear permanent artificial lens. Any existing or future long or short-sightedness problems may still exist. However, we offer cataract refractive surgery which uses advanced technology lenses that could correct long or short-sightedness. This surgery could help you eliminate or reduce your dependence on glasses at the same time as removing your cataract.
Yes, we offer finance on cataract surgery up to 24 months at 0% interest. Additional finance lengths are also available.