Optegra's commitment to NHS patients is evident in the ten-fold increase in patients treated compared to the year before the pandemic struck. As well as supporting the NHS to reduce the extensive ophthalmology waiting lists, we are thoroughly dedicated to improving the vision, independence and quality of life of our NHS patients.
Our consultant ophthalmic surgeons are among the most well-respected and renowned practitioners in their field and are supported by highly trained clinical teams. Each surgeon is a Fellow of the Royal College of Ophthalmologists (RCO) and on the GMC Specialist Register for Ophthalmology.
We have increased the number of clinics available to NHS patients nationwide. We're very proud of our outcomes over the past year:
35,662 completed cataract surgeries. 99.6% of these were uncomplicated.
26,616 post-operative care appointments delivered through accredited community optometrists.
4,835 YAG laser treatments.
94% of eyes achieved 6/12 best measured (vs. NOD benchmark 2022 of 91%)
0.01% infection rates (vs. benchmark 0.14%)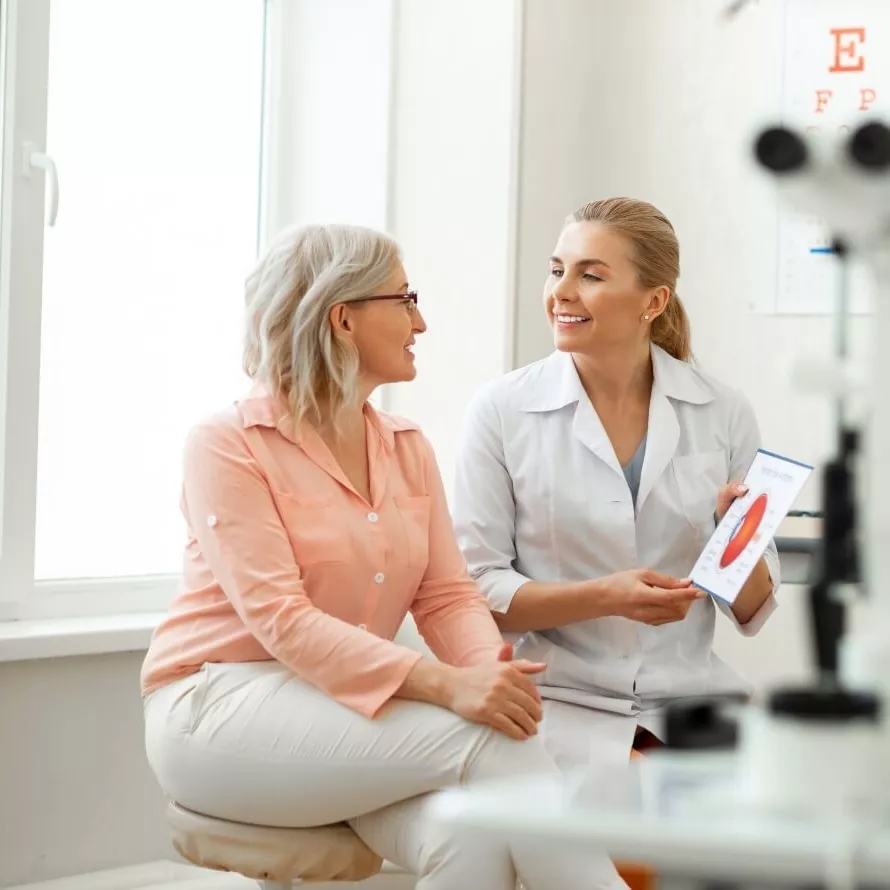 Patient Satisfaction & Support
Latest data from our patient-reported outcomes questionnaire for cataract surgery patients shows that:
91% of patients agreed/strongly agreed their treatment was comfortable.
93% of patients would recommend treatment to family and friends if they needed it.
86% of patients could carry out their normal activities a few days after treatment.
88% of patients were satisfied with the results of their treatment.
Education and support for patients
Optegra hosts patient information evenings, particularly around Age-Related Macular Degeneration.
For example, in July 2022, patients and their relatives attended Optegra Eye Hospital Manchester for a "Living with Macular Degeneration" event. A series of talks provided advice on lifestyle and nutrition; along with a research update, data on the psychological impact of the condition and support available from the Macular Society. All attendees rated the event as good or excellent and said they were willing to recommend Optegra patient evenings to family or friends. Feedback included: "Very impressed" and "A very informative and enjoyable evening. Staff very helpful and all speakers were brilliant."
Optegra has a set of shared values which describe how we behave toward our patients and one another, to ensure these impact positively on the quality of life of the patient as well as driving our business success.
These core values are:
'We are safe' and patient safety is our top priority. It shapes the way we work and the decisions we make.
'We are focused' to achieve the best outcomes for our patients.
'We move fast' with a positive, can-do attitude so that we can achieve more and enable a fast response to our patients.
'We are brave' and feel empowered to find new ways to improve.
Mr Amir Hamid
Optegra Medical Director & Ophthalmic Consultant
Across our nine UK hospitals and clinics which offer NHS treatment, we are delighted to have so vastly increased the number of patients seen over the past year. Optegra has the benefit of working with well-respected and highly skilled surgeons, who not only provide the very best treatment and outcomes to our patients, but who are also willing to share their expertise with colleagues across the industry.
Our NHS Clinic Locations & Consultants
Optegra delivers high quality NHS services at several nationwide locations. Across all our UK hospitals we have specialist ophthalmic consultant surgeons who are amongst the best in the world: highly recognised in their field and completely committed to providing our patients with first-class treatments. They are all Fellows of the Royal College of Ophthalmologists and on the GMC Specialist Register for Ophthalmology.
Our consultants have many years ophthalmic experience and have undertaken thousands of eye procedures. All our surgeons are regulated and approved by Optegra's Medical Director and Medical Advisory Committee.
Each hospital's extensive clinical and administrative teams, as well as dedicated facilities and housekeeping colleagues, are further supported by a strong regional leadership team. This includes a General Manager, Regional Head of Operations and Regional Head of Clinical Services, all working together to ensure a safe, caring and efficient pathway for patients.
Each hospital location also has a Regional Services Manager and team of Service Promotion Executives who provide vital links to the optometry community and GPs to ensure their needs and expectations are managed through a partnership referral process and streamlined patient choice referrals. Internationally Optegra runs 35 specialist eye clinics and hospitals.
All Optegra locations have a CQC rating 'good'.
Optegra NHS Clinic Locations
Patient safety is a key driver for everything we do at Optegra. Systems and processes have been developed with patient safety in mind. One of our core values, 'We are safe', is based on ensuring patient safety is our top priority.
During 2022/23 our covid task force continued to adapt advice and measures to keep patients and staff safe in line with NHS guidance.
Optegra uses the RADAR software platform to support the improvement of safety, performance and quality of care. It is used for reporting incidents, capturing patient feedback, audit and risk management. In depth analytics allows Optegra to spot trends, assign and create actions, so that lessons can be learned, best practice shared and this supports a culture of continuous improvement.
Patient experience
As part of an update to our internal administration system, 22/23 saw the development of our new Patient Portal. This new system has been well received and is designed to improve our patients' experience by allowing them to easily:
Check the time and date of upcoming appointments
Review letters and emails from Optegra
Complete registration forms
Complete Patient Recorded Outcome Measures (PROMS), Friends & Family and Satisfaction Surveys