ReLEx® SMILE is a minimally invasive, bladeless form of keyhole laser eye surgery, offering a great alternative to LASEK and LASIK treatment.
The treatment can correct higher degrees of myopia (short sightedness), and is suitable for individuals with or without astigmatism.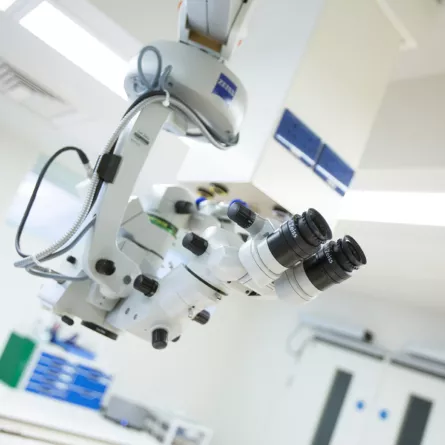 How does SMILE eye surgery work?
During SMILE eye surgery, a state-of-the-art Carl Zeiss VisuMax laser places a series of pulses in the centre of the cornea, with extraordinary 3D accuracy. These pulses form bubbles that are less than 1/100th the width of a human hair, and which outline the tissue that needs to be removed to change the shape of the cornea. The laser then creates a tiny connecting tunnel through which the surgeon draws out this tissue.
With SMILE, no flap is created, so the eye is more comfortable post-operatively than other laser eye surgery techniques. The procedure takes a matter of minutes, and the vision is 80% better within a few hours. After a few days, the vision is excellent, and it reaches 100% within a few weeks (according to trials conducted on over 1,000 patients between the UK, Germany, France and Denmark).
Patients can expect a quick recovery time with SMILE laser eye surgery; however, it is completely normal if your vision is blurry for a little longer after you have had the procedure. Optegra offer a comprehensive aftercare plan, which involves a follow-up appointment the next day, and then follow-up checks at intervals lasting for up to 12 months after this.
Benefits of SMILE Laser Eye Surgery
Fast treatment – SMILE takes less than 15 minutes, with the laser only used for a fraction of this time
Quick recovery time
Better for the stability of the cornea
Less risk of developing dry eyes
No discomfort thanks to the use of numbing drops
More patients are eligible for SMILE
No flap complications
SMILE laser eye surgery with Optegra
At Optegra, we will carry out an in-depth assessment to make sure you are right for SMILE eye surgery. If not, we will recommend a different laser eye treatment or other types of corrective eye surgery such as lens replacement surgery. You will be assigned a qualified and experienced ophthalmic surgeon, who will be with you every step of the way, from carrying out the assessment to conducting the surgery and any aftercare you may require. We pride ourselves on offering an extremely high level of personalised care, which really sets us apart from other clinics.
Are you suitable for SMILE eye surgery?
One of the great things about SMILE laser eye surgery is that more people are suitable for this than for LASEK and LASIK treatment. With regards to the latter two options, patients with dry eyes generally aren't accepted, so if you have mild to moderate dry eyes, SMILE treatment may be ideal. You could also benefit from SMILE eye surgery if you have an intolerance to contact lenses and/or a thinner than average cornea.
During your consultation, one of our expert ophthalmic surgeons will assess your suitability for laser eye surgery and advise you on which laser eye treatment is best for you. To book a free, no obligation consultation with us, please fill out the consultation form below.
Download a free infopack
Not ready for a consultation? Learn more about our range of treatments, doctors and hospitals.
Information pack
Free Virtual Consultation
It takes under a minute to book your virtual consultation with UK's top rated vision correction clinic
Book Now
Call us free
We'll answer any questions you may have about treatment.
0808 163 5845
Lines open Mon-Thu: 8am-7pm, Fri: 8am - 5.30pm, Sat: 9am-4.30pm