After completing your booking, it is important that you complete a short questionnaire to help us tailor your consultation. It will only take approximately 2 minutes. If you require support to complete, please contact our patient services team on 0800 086 1064 or email eyecare@optegra.com.
To see how your personal data is processed, please visit our Privacy Policy
Are you considering private laser eye surgery and want to know how much it costs? Here's more information about our price range.
The cost of your laser eye surgery will depend on whether you have LASIK, LASEK or ReLEx SMILE eye surgery. This decision is made your surgeon based on your personal eye health, your prescription, your age and what your expectations are for your vision.
At Optegra, our laser eye surgery prices are clear and fixed, so you know exactly what to expect. Our single price packages include your consultation, surgery, aftercare and any top up treatments that may be required in a very small number of cases, so the price you see is the price you'll pay, and you don't need to worry about any hidden extras.
Presbyond & Complex Cases
Presbyond & Complex Laser – a method of laser vision correction intended for people with presbyopia, the age-related need to use reading glasses. It is a form of advanced wavefront laser treatment which blends vision for distance and near between the dominant and non-dominant eye, reducing or even eliminating the need for glasses. This costs £2,795 per eye.
Please note that the cost of laser vision correction can vary depending on the location where you get your treatment.
Please see terms & conditions for more information.
Want to reduce your monthly payment?
Try changing your payment period.
48 months
What's included in the cost of your laser eye surgery package?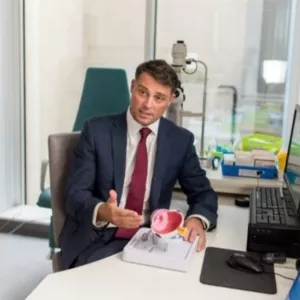 Good experience

I have just been discharged by the doctor from having cateract operation in August . The whole experience has…

Vivien Boswell

I was discharged yesterday from…

I was discharged yesterday from Optegra Didsbury Manchester after having multifocal lens replacement on both…

Ros Usher

I am not writing reviews often but…

I am not writing reviews often but Optegra Birmingham clinic staff fully deserve it. I would give 6 stars if…

Sara Townsend

First class service

Optegra – Consultant Ophthalmologist Mr Shafiq Rehman Eye Hospital Yorkshire. Refractive Surgery. I booked a…

Mr J T Stother

Corrective lense surgery

About five years ago I had lense replacement surgery at Optegra in Bradford. Unfortunately I recently had a…

Jacqueline Lodge

Excellent service

Very happy with my new eyes. The staff at the Yorkshire clinic were very friendly and professional. I was…

Alison Lambert

Fantastic from start to finish

Fantastic from start to finish. The initial consultation was very thorough and I was given the opportunity to…

Janet Worthington
Which factors can impact on the price of laser eye surgery?
Type of procedure: the first factor that can impact on your final bill is the type of laser treatment you choose. For instance, less common treatments such as LASEK are usually cheaper. They are however reserved for less complex cases and therefore only suited for some patients. Our team of expert surgeons will determine with you which treatment is best for you depending on your needs.
Prescription & complex cases: high or complex prescriptions might require a higher level of expertise or a different type of procedure that can impact on the final price. At Optegra, our prices are fixed, meaning that the prices displayed on our websites is what you will pay.
Financing: depending on the provider you choose, you might be able to spread the cost of your treatment over a period of time. At Optegra, we offer 0% finance deals over up to 24 months allow you to pay for your surgery in several instalments. Have a look at our Finance Calculator higher up on this page to simulate how much you will pay.
Price per eye: the cost for laser eye surgery might be indicated differently across different providers. Always make sure to verify if the price indicated is for one, or both eyes. At Optegra, the prices displayed are always for one eye.
Location: the location of the clinic might also impact on the total price and treatments can get more expensive in the capital.
Aftercare: aftercare is also a factor that can impact on your final bill. If you are comparing options, make sure to ask whether the cost of your aftercare is included. At Optegra, our personalised aftercare program includes medication, follow-up visits as well as access to our dedicated helpline.
Download a free information pack
Frequently Asked Questions
Of course, vision correction surgery is an investment, and the advantages of being able to see without glasses or contact lenses are great. When researching, ensure the price quoted is a final cost, not "from" a certain amount.
At Optegra we have no hidden costs. Some patients work out their current cost of annual prescription changes, new spectacles, or monthly financial commitments for contact lenses and all the associated solutions… if you wear glasses or contact lenses, you'll have to keep paying for eye tests, lenses and frames for the rest of your life. Over the course of a lifetime, this can really add up – not just financially but in terms of the time you spend visiting the optician too.
If you choose laser eye surgery, you're choosing a permanent treatment with one fixed cost.
With so many options out there, it might be tempting to look for the cheapest price for laser eye surgery. However, it is important to keep in mind that even if you qualify for the cheapest treatment, it can be detrimental to your health long term – and even costs you more in the long run. Therefore it is so important to choose a fully qualified surgeon from a renowned clinic to perform your surgery to make sure that you get the best outcome. Instead of looking for cheap laser eye surgery costs, we recommend that you consider our 0% finance options that allow you to spread the cost of your treatment over 12 to 24 months.
Laser eye surgery is available for free on the NHS. However, NHS-funded treatments are only offered in exceptional circumstances – for instance to patients with conditions that can lead to blindness if left untreated.
If you wish to correct refractive errors such as myopia (short-sightedness), hyperopia (long-sightedness) or astigmatism, your best option is to look for private laser eye surgery instead as these conditions are considered as a cosmetic procedure rather than a medical one.
At Optegra, we also offer finance options so you can spread the cost over several months – up to four years. Our handy price calculator right above helps you simulate the cost of your treatment depending on the treatment you need and the payment period you choose. If you need more information about our finance options, please do get in touch and one of our staff will answer all your questions.
It is certainly possible to get laser eye surgery abroad for less than the prices in the UK, but what you need to consider is your safety, as well as the various associated costs. At Optegra we offer a fixed price that includes all your treatment from start to finish. If you travel abroad, then as well as the cost of your treatment, you'll also need to pay for flights, accommodation, transport and food.
Many people think they can get the whole thing done in a couple of days, but the reality is very different. It is strongly recommended that in the days immediately after treatment you take it easy and try to strain your eyes as little as possible. You may also need assistance during your trip, so if you bring a family member or friend, you'll be paying for them too. All of this may still work out cheaper if you're willing to cut your stay short and risk travelling when you should be resting.
But what about the risks of complications? Although there are some excellent surgeons in many countries around the world, nothing beats the assurance of choosing a provider closer to home, where you can be assured of high standards.
Here at Optegra, we're regulated by the Care Quality Commission (CQC). All of our surgeons are also NHS trained and Fellows of the Royal College of Ophthalmologists or equivalent organisations, so you can trust that you're in a safe pair of hands.
You may also be wondering if your private medical insurance will cover the cost of vision correction. If you are having cataract surgery, that is covered by insurance. However, the amount covered in terms of treatment cost is on a patient-by-patient basis dependent on your individual policy.
If you are choosing to have elective surgery (i.e. not medically required), for example RLE, this would not be covered by private medical insurance.
Yet if you have a cataract and also want to be free of glasses (as with the RLE procedure), the cataract element would be covered and you would only have to pay separately for your enhanced lenses. For example, to upgrade from regular cataract surgery to an RLE 'package' is an additional £1,495 per eye – this would cover follow-ups for a year and enhancement in that time frame if required.
Consumer Credit Information
Optegra UK Limited FRN: 735282 are authorised and regulated by the Financial Conduct Authority. We are a credit broker not a lender – credit is subject to status and affordability, and is provided by Novuna Consumer Finance. Terms & Conditions Apply.
A minimum spend of £1k and a minimum 10% deposit is payable if financing is taken up.
For 12 and 24 months interest free credit is available.
Download a free infopack
Not ready for a consultation? Learn more about our range of treatments, doctors and hospitals
Information pack
Free Virtual Consultation
Book your virtual consultation with our top rated eye hospitals
Book Now
Call us free
We'll answer any questions you may have about treatment.
Private Patients – 0800 086 1064

NHS Patients – 0207 509 4186
Private: Mon-Thu: 8am-7pm, Fri: 8am – 5.30pm NHS: Mon-Fri: 8am – 6pm
Patient Portal
Manage your existing bookings & payments
Patient Portal