At Optegra, we've made our private cataract surgery costs as simple and transparent as possible, with a fixed price per eye for the treatment carried out. Unlike other eye hospitals, we don't add on extra costs along the way, so you can be confident from the start about how much your cataract treatment will cost.
We are passionately committed to improving the quality of vision, and consequent quality of life for our patients. Therefore we provide fully comprehensive cataract consultations – which are both non-obligation and most importantly, free.  We also have 0% finance options available, should that be a route you wish to explore.
How much does cataract surgery cost?
Standard Cataract Treatment
Cataract surgery with monofocal lens
Enhanced Cataract Treatment
Cataract & astigmatism treatment with a toric lens
Advanced Cataract Treatment
The most advanced cataract surgery using a multifocal lens
What's included in your cataract surgery costs?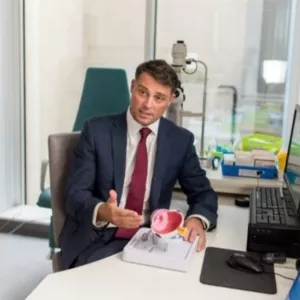 Want to reduce your monthly payment?
Try changing your payment period.
48 months
Why choose Optegra for private cataract surgery?
A designated consultant – You will be seen by the same consultant and team throughout the entire process, from your initial consultation, through to the surgery, and also for the post-operative follow-up. This is unusual nowadays, as most eye hospitals and health clinics provide a segmented service, which we believe hinders the quality of care.
Personalised treatment – We recognise that all of our patients are different. Your needs may be different to someone else's. This is why we provide a personalised treatment plan that takes your lifestyle into account.
The latest advanced technology – We are well known for using the most advanced and innovative technology in all of our eye hospitals, guaranteeing the best results.
Diagnostic eye tests – We provide a wide range of diagnostic eye tests, which are carried out by our specially trained clinical teams.
Specialist eye hospitals – Your consultation, surgery and follow-up appointments will all take place at one of our dedicated Optegra eye hospitals. We have purpose-built hospitals across the UK, from Manchester and Birmingham to London and Hampshire.
Comprehensive aftercare – You will benefit from a comprehensive cataract surgery recovery programme that is completely tailored to your needs. This not only includes follow-up visits, but also incorporates a dedicated out-of-hours helpline number and any home medication that is required.
"A great advantage of the treatment provided by Optegra is the consistency of care."
Amir Hamid
Awarded top-rated surgeon by Doctify in 2018
At your free cataract consultation you will meet an eye surgeon, who will not only recommend the best treatment for you, but also go on to carry out that procedure and your follow up care. Consistency of care, combined with the incredibly innovative and high level technology, is key to guaranteeing the best levels of care.
Our cataract surgery costs are simple and transparent. Each tier of pricing includes all treatment within Optegra's five-star hospitals – importantly with no waiting lists – plus follow-up care.
Standard cataract surgery – where a standard monofocal lens is used to replace the cloudy cataract – costs £2,655 per eye.
Enhanced cataract surgery – where a standard monofocal lens is used to replace the cloudy cataract for patients who have astigmatism (where the shape of the eye is rugby ball shaped rather than football, and this affects focusing power) – costs £3,295 per eye.
Advanced cataract surgery – where a multifocal lens using the most advanced technology is used to replace the cloudy cataract.  This eliminates or vastly reduces the need for glasses or contact lenses after the procedure – costs £3,795 per eye.
We have a number of different payment plans to assist you with the cost of cataract surgery, including finance plans spread over several months.
If you decide to go for a 12 or 24-month payment structure, you can benefit from 0% APR, and no deposit is required, irrespective of the finance plan you choose. A consultation with one of our world-class ophthalmic surgeons is free.
Alternatively, an advanced form of cataract surgery called lens replacement surgery is also available.
Download a free information pack
Download a free infopack
Not ready for a consultation? Learn more about our range of treatments, doctors and hospitals.
Information pack
Free Virtual Consultation
Book your virtual consultation with UK's top rated vision correction clinic
Book Now
Call us free
We'll answer any questions you may have about treatment.
Private Patients – 0800 086 1064

NHS Patients – 0207 509 4186
Lines open Mon-Thu: 8am-7pm, Fri: 8am – 6pm
Patient Portal
It takes under a minute to book your virtual consultation with UK's top rated vision correction clinic
Patient Portal