How much does cataract surgery cost?
Our cataract surgery costs are simple and transparent. We offer a fixed price per eye for the treatment carried out and, unlike other cataract surgery providers, we don't add on extra costs along the way.
We pride ourselves on having no hidden fees, so you can be confident from the start about how much your cataract treatment will cost. Our tiered packages can be found below, which outline exactly what treatment is included for the price you pay. We also have 0% finance options available, should that be a route you wish to explore.
We are committed to improving our patients' quality of vision and, in turn, their quality of life. If you'd like more information, you can arrange a free, no-obligation comprehensive cataract consultation to understand all your options.  
Our Cataract Treatment Pricing Prices
Each tier of pricing includes all treatment within Optegra's five-star hospitals. Plus we include follow-up aftercare as standard, including free YAG treatment,  if required within 1 year of surgery,  as part of our one year free aftercare package.
Standard Cataract Treatment
Cataract surgery with monofocal lens
Enhanced Cataract Treatment
Cataract & astigmatism treatment with a toric lens
Advanced Cataract Treatment
The most advanced cataract surgery using a multifocal lens
What's included in your cataract surgery costs?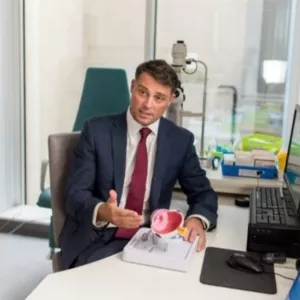 Finance Options
We have a number of different payment plans to assist you with the cost of cataract surgery, including finance options spread over several months. We're pleased to say that our finance plans are some of the most competitive on the market. Use our tool below to build your perfect package.
Want to reduce your monthly payment?
Try changing your payment period.
48 months
If you decide to go for a 12 or 24-month payment structure, you can benefit from 0% APR with a minimum of 10% required to secure your surgery date. You will also receive a free consultation with one of our world-class ophthalmic surgeons.
Alternatively, an advanced form of cataract surgery called lens replacement surgery is also available, and you can view details of our specific lens replacement surgery costs.
Optegra offer fair & transparent pricing with attractive 0% finance options
Why choose Optegra for private cataract surgery?
A designated consultant and continuity of care  –

You will be seen by the same

consultant and team

throughout the entire process, from your initial consultation, through to the surgery, and also for the post-operative follow-up. This is unusual nowadays, as most eye hospitals and health clinics provide a segmented service, which we believe hinders the quality of care.

Personalised treatment –

We recognise that all our patients are different. Your needs may be different to someone else's.  That's why all our cataract surgery packages include a personalised treatment plan that takes your lifestyle into account.

The latest advanced technology –

We are well known for using the

most advanced and innovative technology

in all our eye hospitals, guaranteeing the best results.

Diagnostic eye tests –

We provide a wide range of diagnostic eye tests, which are carried out by our specially trained clinical teams.

Specialist eye hospitals –

Your consultation, surgery and follow-up appointments will all take place at one of our

dedicated Optegra eye hospitals

. We have purpose-built hospitals all across the UK, so you can keep your travel costs low.

Comprehensive aftercare –

As standard, cataract treatment at Optegra includes a comprehensive

cataract surgery recovery plan

that is completely tailored to your needs. This not only includes follow-up visits, but also incorporates a dedicated out-of-hours helpline number and any home medication that is required. This package includes one year free aftercare. 
Mike Cockram
Optegra patient following his double cataract treatment with us
I now have stunning, crisp, clear vision that I understand is way better than 20/20, be it at day or night. It's something that I always hoped was possible but had not anticipated. I now have eyesight to die for, this is sight perfection!
Download a free information pack
Download a free infopack
Not ready for a consultation? Learn more about our range of treatments, doctors and hospitals
Information pack
Free Virtual Consultation
Book your virtual consultation with our top rated eye hospitals
Book Now
Call us free
We'll answer any questions you may have about treatment.
Private Patients – 0808 304 3983

NHS Patients – 0207 509 4186
Private: Mon-Thu: 8am-7pm, Fri: 8am – 5.30pm NHS: Mon-Fri: 8am – 6pm
Patient Portal
Manage your existing bookings & payments
Patient Portal