After completing your booking, it is important that you complete a short questionnaire to help us tailor your consultation. It will only take approximately 2 minutes. If you require support to complete, please contact our patient services team on 0800 086 1064 or email eyecare@optegra.com.
To see how your personal data is processed, please visit our Privacy Policy
Optegra eye hospitals are dedicated only to eye surgery
Access to 155 eye consultants
No waiting time
Options to enjoy life without glasses
Treatments not available on the NHS
We have dedicated eye hospitals across the country in the following locations:
About Our Immaculate Eye Hospitals
Optegra eye hospitals are dedicated only to eye surgery, eye treatments and eye care. Our services include Laser Eye Surgery, Lens Replacement and Cataract Surgery and treatment for other medical eye conditions including glaucoma.
Our hospitals and clinics provide a modern, calm and comfortable environment in which our patients can feel relaxed and well cared for through a patient-led, personalised treatment plan.
As centres of eye excellence, we offer facilities with the most advanced surgical and technical equipment. Each location is staffed by a professional clinical team with leading NHS-trained Consultant Ophthalmic Surgeons who are all Fellows of the Royal College of Ophthalmologists. The Medical Advisory Committee (MAC) at each hospital ensures compliance with the best clinical practice.
As well as purpose-built Optegra hospitals in Birmingham, Hampshire, London, North London, Manchester, Surrey, and Yorkshire.
Eye Treatment With Optegra
Whatever your requirements, we ensure that every procedure we carry out is tailored to an individual's particular needs. Having the largest collection of private ophthalmic hospitals in the UK, we pride ourselves on being the best. Not only are our staff NHS-trained, but we have our own research division – Optegra Eye Sciences – aimed at discovering even better ways of looking after our patients. All services at our eye hospital in Birmingham are personalised to you.
Treatment at our eye hospital in Birmingham doesn't end with surgery. Our recovery suite is dedicated to ensuring your aftercare is of the highest standard, and we are proud to offer a dedicated out of hours contact number for all of our patients should you have any queries once you are home.
The Optegra Birmingham Eye Hospital is regulated by the Care Quality Commission (CQC).
Our Hospitals and Consultants
All treatments are carried out in our own dedicated eye hospitals. You will be cared for in relaxing and comfortable surroundings. Your consultation is provided by the same renowned Consultant Ophthalmic Surgeon who will deliver your treatment. This 5 star treatment, from start to finish is why we are recognised as a top rated eye hospital.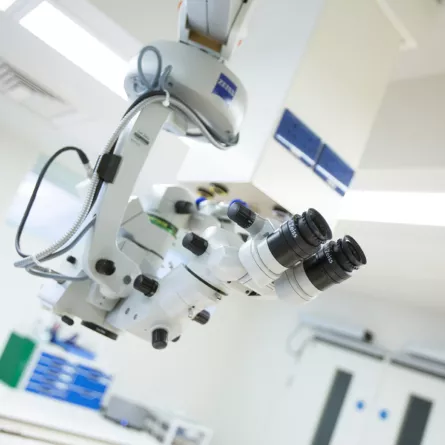 World-class eye care requires world-class technology. That's why at Optegra you will find some of the most advanced equipment available.
All our eye hospitals are supported by dedicated optometrists and healthcare technicians and over 70 consultants who provide a wide range of procedures
Download a free infopack
Not ready for a consultation? Learn more about our range of treatments, doctors and hospitals
Information pack
Free Virtual Consultation
Book your virtual consultation with our top rated eye hospitals
Book Now
Call us free
We'll answer any questions you may have about treatment.
Private Patients - 0800 086 1064

NHS Patients - 0207 509 4186
Private: Mon-Thu: 8am-7pm, Fri: 8am - 5.30pm NHS: Mon-Fri: 8am - 6pm
Patient Portal
Manage your existing bookings & payments
Patient Portal