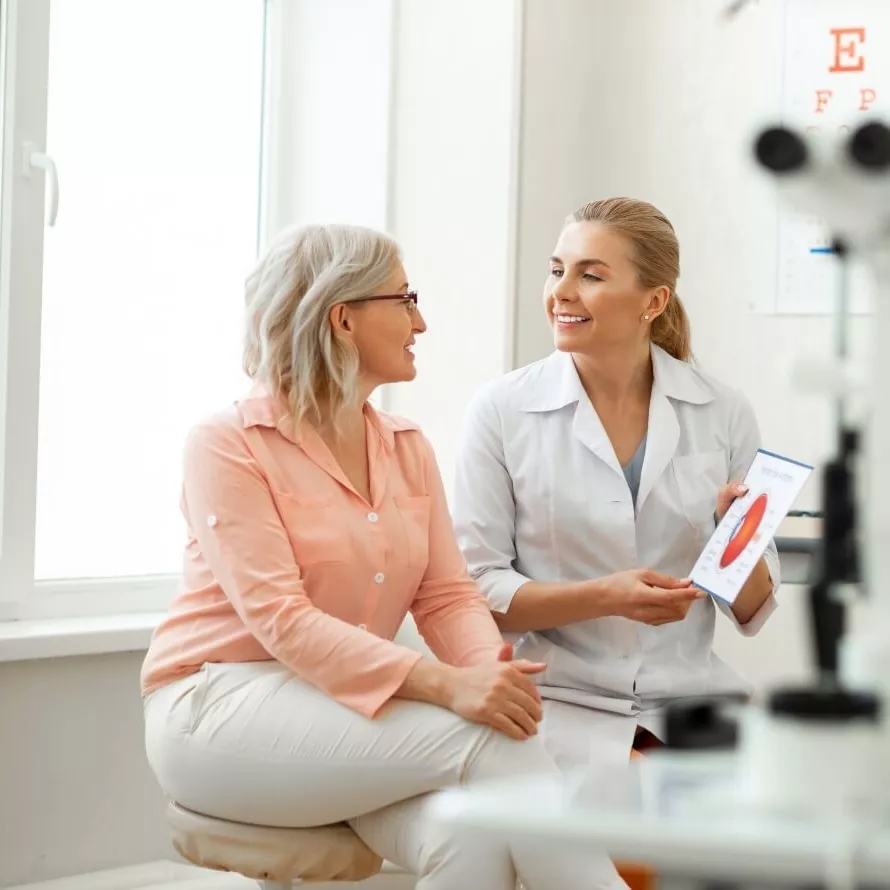 The Optegra Patient Journey
From start to finish, we consistently strive to ensure your patient experience with us will be outstanding. This patient journey page describes what you can expect at each stage of your vision correction journey with us. From initial research to post operative care.
If you have any questions at any time, please request a call-back or call 0800 086 1064 and our patient services team will be in touch within 24 hours.
I'm thinking about vision correction
Information
We have a wealth of information about vision correction on our website, including our downloadable information pack. For useful information about our many treatments, we also have many articles on our blog.
Booking a free online consultation
Our eyes are unique to each of us. That's why we encourage anyone thinking about vision correction treatment to book a free online consultation so our experts can discuss options best suited to your age group, prescription, and visual needs. You can choose a day and time that works for you and discover your treatment options from the comfort of your own home.
To confirm your online booking, please complete a short health and lifestyle questionnaire so we can provide you with the best possible advice during your consultation.
You will need to provide your latest prescription history as part of this questionnaire. The prescription history is very important, as it will tell us what procedure you will be provisionally suitable for. If you are aged 18-21, two years of prescription history are required. If you are older than this, one year is required.
Once your online appointment booking is completed, you will get an email confirmation from our patient services team with further instructions.
In case you require help booking, you can contact our patient services team at any time on 0800 086 1064.
I've already booked my free vision correction consultation online
Before your consultation, please ensure you have completed and submitted the health and lifestyle questionnaire. In case you have any difficulties with the questionnaire, please contact our patient services team at 0800 086 1064.
If you have chosen a video consultation, we will email you the link for your free online consultation, which can last up to 30 minutes. You can also choose to have your consultation via telephone if preferred.
Today is my free online consultation
The aim of this consultation is to determine your likely suitability for vision correction treatment. The clinician will also go through and make sure you understand the procedures that you may be suitable for, any questions or concerns that you may have, as well as have the opportunity to discuss costs and finance options.
For the optimal outcome, you will need to show that your prescription is stable and should have a two-year prescription history if you are 18-21 and one year if you are older to discuss during the consultation, including your most recent eye test prescription. If you do not currently have this, your optician will be able to provide you with a copy.
Upon completion of your online consultation, if you are provisionally suitable for vision correction, you will be invited to attend a face-to-face appointment for an in-person, detailed evaluation and discussion. A re-confirmation of your suitability and the best procedure for you will be discussed with you. Upon booking your face-to-face appointment, you will receive an email confirmation.
Today is my free face-to-face consultation
What to bring. You'll need to bring a list of your medications & repeat prescriptions, your glasses and spectacle prescriptions (previous one year if over 21 and two years if aged 18-21  years). You'll be provided with a full list of items to bring to your consultation well in advance of the appointment.
Arrive at the hospital. Our friendly team will welcome you and explain the various steps involved with the in-person consultation. You'll be able to ask any questions you have about the procedure,  your suitability, and aftercare.
Advanced eye screening & diagnostic tests. Our dedicated eye hospitals & clinics are fitted with a suite of advanced diagnostic equipment. We'll carry out a number of non-invasive diagnostic tests to assess the health and function of your eyes, which will help us assess your suitability for treatment. During this assessment, we will also discuss your symptoms and eye health history to help you arrive at the correct diagnosis and recommended treatment.
Discussion of assessment & recommendation. Following your diagnostic tests and assessment of your eye health history, our experts will make a recommendation for the best possible treatment options for your circumstances. In some instances, you may be advised against any treatment or advised to return later. A detailed explanation of the potential benefits and risks will be discussed, so you have all you need to make an informed choice. You'll also be provided with this information for your consideration.
You should allow for two hours for your  Face-to-Face consultation.
Booking your treatment
If you are deemed suitable, you will have the opportunity to secure a booking for your treatment. You will meet with the surgeon's medical secretary, who will provide you with further information on your treatment in writing. You can discuss finance options with them. A 10% deposit is required to secure your treatment day.
I'm going ahead with treatment
Read & understand your patient information pack. This has details of your surgery's cost breakdown, terms and conditions, and a patient booklet that is specific to your selected treatment.
Sign your consent form. Once you are comfortable, you can read and sign your consent form online. This is only done after you have paid a deposit and selected a date for treatment.
Meet with your surgeon. Prior to the surgery, you will be able to meet with your consultant virtually (phone or video). This is a great opportunity to ask any further questions you have prior to your surgery. Your consultant will ensure you understand all aspects of the treatment, are comfortable proceeding and confirm that you have provided consent to proceed.
I'm having my treatment today
After you arrive at the hospital, our team will ensure you are comfortable and at ease prior to surgery. You can also ask our team any questions you have about the surgery or aftercare process while we explain the day's procedure from start to finish. Your experience will be unique, depending on the type of surgery and your individual patient profile.
For treatment, you will lie on a comfortable treatment bed, and local anaesthesia will be applied to the eye. The procedure is quick and pain-free.
If you think you may be anxious on the day, you can also request a mild sedative to relax you.
After the surgery is complete, you'll be able to relax in a comfortable recovery area. Eye drops and complete aftercare instructions will be provided. You can leave for home as soon as you're comfortable. Your first aftercare appointment will be set up before you leave the hospital.
You will be able to see after your treatment, although your vision might be a little hazy.
I've finished my surgery – Aftercare
At Optegra, your aftercare is included with your treatment package.
Depending on your procedure, you will be provided with a full description of your aftercare package. Your initial aftercare appointment will be arranged for you.
My experience has been brilliant – I'd like to refer family and friends
A lot of our patients come via referral. You can see how to refer your family and friends on our website.
Please feel free to contact us at 0800 086 1064 at any time with any questions you may have about your upcoming consultation, treatment, or aftercare. Or request a call-back to speak to a patient advisor.
By Author: Amir Hamid
Mr. Amir Hamid is our Medical Director for Vision Correction and an expert refractive surgeon, based in London.