Please give an overview of your role and responsibilities within Optegra?
As CEO for the company I manage our business across our 23 hospitals internationally. I work closely with our shareholders and investor to make sure we have the right plans and resources to make the organization successful and serve our patients well.
The most critical element in our business is to have the right clinical staff to support our patients and develop our pathways so we can deliver focused care with great outcomes.
On an international level we share best practice, from patient pathways and clinical perspectives, to technology and training, we learn from each other.
What first attracted you to the healthcare industry?
I have always worked in healthcare after my medical training in Belgium. I was a resident in orthopaedic surgery in Belgium, but got attracted into the corporate world and from there moved on to the healthcare service industry.
There is a lot of opportunity for innovation in how you provide care. While innovation in technology, devices and diagnostics is critical, organising and delivering that care in the right way is making such a great impact.
Within Optegra, we identified the opportunity to provide really focused clinics, bearing in mind the changing demographics and increasing need within ophthalmology. The more procedures you do as a physician, the better the outcomes, the better the quality for patients and the lower the cost for the company.
What are your key career highlights?
My move from being a resident in surgery to join the business world and become a sales rep was a bold but rewarding move! I had started selling over-the-counter products with Proctor and Gamble over a few summers while I was studying and found it a fascinating world. I received a lot of advice and was encouraged to 'get my hands dirty' and so I started in commercial roles aged 26.
I was intrigued by this world, the reward was high and it really developed me.
Then I moved out of the corporate world in 2011, when I had been EMEA President for an international company, leading more than 1,000 people, and moved into private equity and a more service-oriented and entrepreneurial career.
What brings you joy in your work?
That is easy, it is working with people. Seeing our people accomplish a goal and consequently the company succeeds.
We are treating far more patients than we were two years ago, and supporting talented people in ambitious roles, that really brings me joy.
How would you describe the ethos of Optegra?
We have a great patient-led culture; it is one of reasons why I joined Optegra. Our clinical and admin staff are all very much committed to our patients, in an informal, no-nonsense, 'getting it done' type of environment.
We are driving innovation and trying new things, but still maintaining a high degree of compliance, governance, and trying to do what is best for the patient while enjoying our work.
Download Information Pack
Learn more about how our latest vision correction techniques could improve your vision and change your life. Or Book Free Consultation.
Have your views of healthcare changed in the face of the pandemic?
Certainly the digital innovation has accelerated tremendously. Over the pandemic we have gained 3-5 years' worth of innovation and have been delighted at the success of our virtual consults.
We have all been surprised by how well the online side of our work – consultations and bookings – has taken off, and how quickly older generations have adapted and engaged in this.
How do you think the new investor will change Optegra's future path?
Our new investors, H2 Equity Partners, will give us the opportunity to expand in our current geographies and the resources to grow the company further and accelerate our strategy.
Our new investors are going to hold us firmly accountable to deliver our plans, which is a good thing.
Your perfect holiday?
A mix between leisure and activity such as sports, cycling, skiing or sightseeing. Having fun with my family.
Helen and I love to have time with our three boys, enjoy a nice dinner together and chat about many, many things.
Your hobbies?
I love to cycle – road bikes, mountain bike, cross country. Ideally multi-day riding and long distances.
I also like to work on old cars. I'm currently providing some 'cosmetic surgery' on a 1960s Alfa Romeo. It really is a great way to switch off!
Any unusual or quirky recipe you cook?
A traditional dish which we just cooked for my son's 21st birthday, is home-made French fries and a good steak. Making fresh French fries is a certain skill, involving the right type of potatoes, two different types of oil in a specific boiling process – being Belgian, it is in our DNA to make these!
Peter Byloos – CEO, Optegra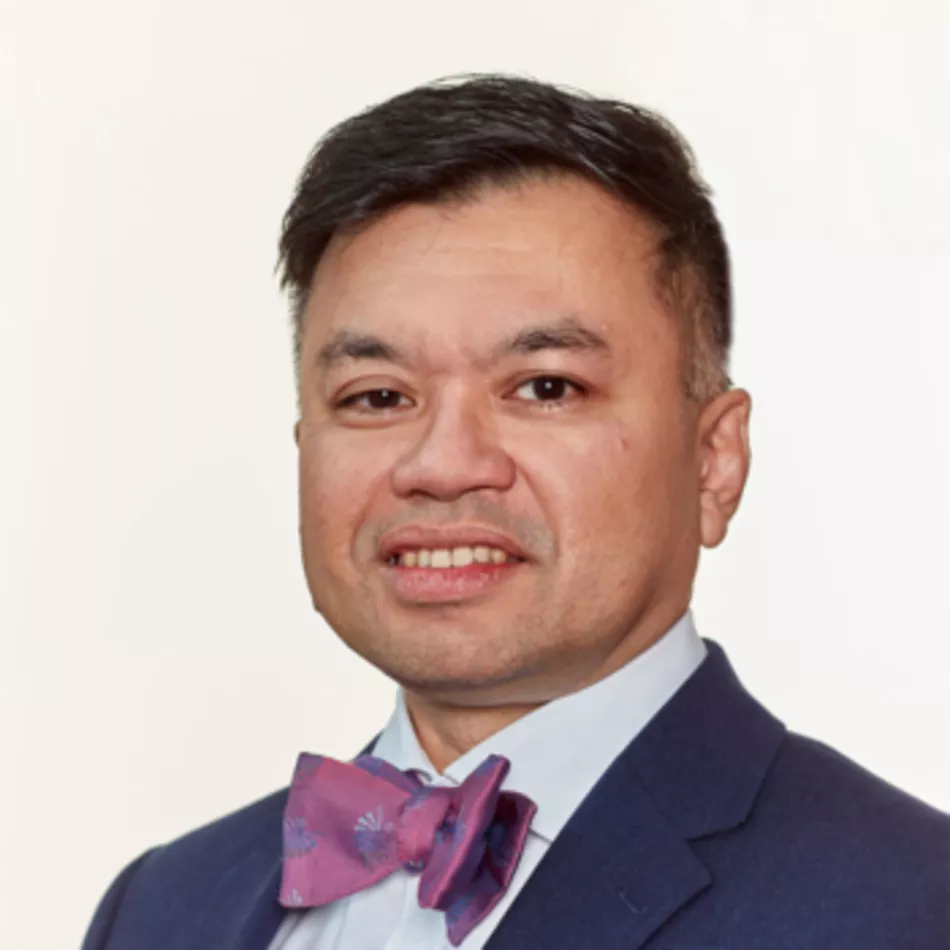 Mr. Amir Hamid is a Clinical Lead for Vision Correction and an expert refractive surgeon, based in London.