Medically reviewed on 17-August-2023
Here at Optegra, one of the questions we're often asked about laser eye surgery aftercare is whether it's ok to drive after having treatment.
It's important to note that you won't be able to drive immediately after your surgery, so you'll need to make sure that you plan your transport out accordingly. To help you prepare, we've put together this guide, which covers everything you need to know about driving after laser eye surgery.
Preparing for your treatment
Once you've booked a date for your laser eye correction treatment, you'll need to arrange a lift to drop you off at the hospital or travel in by public transport. After the surgery, we do not recommend going back alone or using the underground. If you prefer to use public transport on the way back, it is advisable to have someone to accompany you, and to use overground transport systems.
Ideally it is best if someone is able to pick you up after your treatment. Most of our eye hospitals and clinics offer plenty of free parking, so whoever's dropping you off will have no problems with parking.
If you're travelling to our central London eye hospital, you'll probably find public transport or a taxi the best options, as the hospital is located right in the heart of the city.
How long after laser eye surgery can you drive?
After having lasik or lasek surgery, legally you aren't allowed to drive until you've been given the all clear by your ophthalmic surgeon.
You will be given a follow-up appointment for the day after your procedure, so again you'll need to either ask a friend to drop you off, or else take a taxi or public transport. During this aftercare appointment, your surgeon will assess your progress so far, and let you know whether you'll be able to drive yet, or whether you need to take a bit more time to recover.
Once your surgeon has assessed that your eyes have recovered enough for you to drive, you'll be able to get back behind the wheel. For most people, this will take a couple of days, but it depends on your individual recovery rate, and could take up to a week.
Download Information Pack
Learn more about how our latest vision correction techniques could improve your vision and change your life. Or Book Free Consultation.
After you've had the all clear to drive
After you've been given the all clear to drive, there are still some things to bear in mind after your surgery.
Some patients experience glare, especially from bright lights, in the weeks after surgery. This could cause you some slight difficulties when driving at night, if you face glare from oncoming headlights. You may therefore want to try being a passenger at night time first, to assess whether you would feel comfortable driving yourself.
Problems with glare typically improve significantly within the first few weeks following treatment, and continue to improve over the first three months.
Another thing to bear in mind is that although laser eye surgery can significantly improve your vision, it isn't a miracle cure, and you might still find that you need glasses for certain tasks, which could include driving.
Wondering about life after laser eye surgery?
If you're wondering what else you can and can't do after having laser eye surgery, take a look at this blog post, which outlines some of the key things you should consider after your treatment, including showering, exercising and going back to work. You can also read more about laser eye surgery aftercare explained in detail, as well as what to expect straight after the surgery.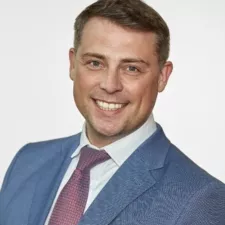 Mr Shortt is a leading ophthalmic surgeon and an expert in the fields of cornea, cataract and refractive surgery.