Medically reviewed on 17-August-2023
Feel too young to be diagnosed with cataract? You are not alone.  While most people diagnosed with cataracts are in their 70s or 80s, there are an increasing number of patients being diagnosed younger – even as young as their 40s or 50s.
In fact almost a fifth (16 per cent) of enquiries to Optegra regarding cataract treatment are now from people in their 40s and 50s.
So why is this, and what can be done to help?
While research is ongoing, it is believed that causes for cataracts may be the impact of UV, trauma, diabetes, other eye problems such as myopia (short sightedness) and vitrectomy surgery.
In addition, adults today are less tolerant of imperfections and loss of function, so are more likely to source treatment earlier in life.
The good news is that the treatment has become incredibly sophisticated and so you now have options as to how to move forward – standard cataract surgery or advanced cataract surgery.
Standard cataract surgery removes the cloudy lens and replaces it with a synthetic monofocal lens, which enables you to continue to seeing as you did prior to your cataract.
However, you can also now have advanced cataract surgery – the same procedure, but using a tailored prescription, multifocal lens which means you are likely to also not need glasses or contact lenses after the surgery.  An ideal solution, especially if you have cataract younger in life, to be free of cataract and glasses all in one procedure.
And rest assured – cataract surgery is the most commonly performed surgical procedure, with over 330,000 cases performed each year in England alone.
Download Information Pack
Learn more about how our latest vision correction techniques could improve your vision and change your life. Or Book Free Consultation.
Monalisa's story
At the age of just 39 years, a Harrogate mum was shocked to be diagnosed with early cataracts.
Monalisa had been suffering with severe glare on sunny days and when looking at bright lights, to the extent that she did not feel safe to drive and was relying on friends and taxis.
A consultation with her local optician led to a diagnosis of cataract, often associated with older generations.
At just 39, she was surprised at the diagnosis and says her vision worsened hugely in the past 12 months.  She explains: "I always considered myself to have excellent vision, and when it started to deteriorate I thought it was because I spend a lot of time staring into a screen as a full time student – I had not even considered I would have a cataract.
"It turns out it is hereditary, as my mother had the same. However, back then, she did not want surgery as she was scared and had five children to care for, so she battled on for 15-20 years with poor vision, which just got worse and worse. To the point when in her 50s, we had to introduce who we were when we approached her, she could not see us well enough. She then had cataract surgery and her life was transformed. Of course, she regretted not doing it years before.
"I was determined not to be like her, so as soon as I knew I also had cataracts, even though I am only in my 30s, I booked in for surgery.  I saw how bad her vision was and that the op fixed it, there was no way I was going to wait!
"Instantly the glare has gone, it is fantastic. And colours are now screaming out at me, paintings and things I have had for years are all so much sharper"
To find out more about treatment options for cataract – whatever your age – book a FREE, no-obligation consultation with an expert eye surgeon at one of Optegra's hospitals or clinics.  You will have a series of thorough eye tests so that your consultant can make personal recommendations on the best treatment for you.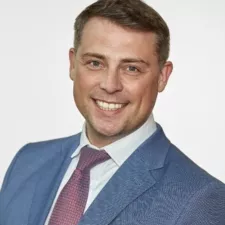 Mr Shortt is a leading ophthalmic surgeon and an expert in the fields of cornea, cataract and refractive surgery.
Medically Reviewed Date: 17th August 2023