Medically reviewed on 17-August-2023
Eye health experts in the Greater Manchester region are working closely together to help residents restore their vision and get their eye health back on track post lockdown.
A number of changes have been made, and while all optometrists in the community may vary slightly, there are certain changes – from PPE to less people in the practice, to urgent cases being prioritized –that will change your next eye test.
Kevin Liu, owner and independent prescribing optometrist at Specsavers in Greater Manchester, describes how he has made changes throughout the practice, and how he works with a local specialist eye hospital to put his patients' safety and eyesight first.  So what does that mean for you?
He says: "The world has obviously changed and social distancing is so very important now in every aspect of life.  We have definitely noticed many patients' eyesight has got worse during lockdown and so we are doing everything we can to help people restore full vision as quickly as possible.
"It is safe now for people to seek the professional help they need, and here are some of the changes patients can expect if they visit Specsavers in Sale and Urmston in future weeks and months."
Before you arrive
You can only come in with an appointment – this helps us keep numbers to a minimum for your safety
Before you even come in to the practice, you will have a pre-visit phonecall so we can check your main reasons for visiting and discuss any particular problems before you arrive. This means you are in the practice for less time, and we can also prioritize any urgent cases
On the day
You will be asked to keep to the 2 metre social distancing – we know the rule has relaxed nationally, but we are keeping extra safe!
You will see all staff in PPE – facemask, goggles or visor, apron and gloves – and will be offered a face mask to wear yourself if you haven't got your own
We have limited the number of staff you will interact with during your visit
We will only run the tests that are absolutely necessary, based on our phone call and your symptoms
If you are searching for new spectacles, you will be asked to select some frames online https://www.specsavers.co.uk/glasses before you arrive so we can prepare the frames for you to try on. All equipment will be sanitized between patients
After your appointment
Once your spectacles are ready there are new options on collecting – previously patients would always have glasses fully fitted on collection.  Since frames are pre-fitted during the dispensing process, you now have the option of whether you wish to have an express collection or attend for a full fitting.
 Medical treatments
For those patients who need more medical attention, Specsavers is working with local specialist Optegra Eye Hospital Manchester and while, nationally, there is quite a backlog of cases – especially cataract patients as well as retinal issues – patients can now access the surgical treatments they need.
Specsavers can now assist with NHS or self-pay cataract treatment at Optegra, and then patients return to their familiar optician for their post-op checks.
It is a priority now to help those whose treatment was delayed due to lockdown.
As at Specsavers, patients can expect changes as they visit Optegra also. These include:
Download Information Pack
Learn more about how our latest vision correction techniques could improve your vision and change your life. Or Book Free Consultation.
Before you arrive
A phonecall or virtual appointment (for private patients)  to discuss your vision and your needs
Agreement to postpone appointment if you develop any Covid-19 symptoms or live with anyone who is isolating
On the day
Temperature check and hand sanitiser provided on arrival
Facemask provided and all staff in PPE
Limited patients at any one time so you are not in a busy reception area
Spaced out preparation areas and all equipment deep cleaned and sanitized between patients
PPE apron and further hand sanitiser as you enter theatre
To find out more about the changes Optegra has made to keep you safe please watch the video at the end of this post.
Kevin concludes:
"We are eager that patients who need urgent care do not wait any longer than they have had to due to lockdown.
"We have a number of patients who booked in for cataract surgery before lockdown happened and many are asking to go to Optegra as there is a shorter wait, and they can still have the advantage of NHS treatment with this private hospital group.
"There are options on treatments, and we can reassure you it is safe, but do get in touch so your vision does not deteriorate and we can start the process with you.
"If you are still concerned about Covid-19, we understand.  We are taking this very seriously and can find ways to help you.  Just last week, for example, one of our patients is also undergoing treatment for lung caner, and so we arranged for him to come in after-hours so no other patients and minimal staff were around.  We are incredibly flexible, and here to help you."
To make an appointment with Specsavers please call 0161 9692001 (Sale) or 0161 7470425 (Urmston) or visit Specsavers.
For more information on Optegra, contact us.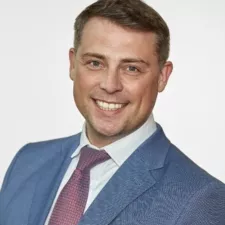 Mr Shortt is a leading ophthalmic surgeon and an expert in the fields of cornea, cataract and refractive surgery.
Medically Reviewed Date: 17th August 2023