Medically reviewed on 17-August-2023
Before undergoing any kind of surgery, it's important to make sure you're fully prepared for what the procedure will involve. As well as thinking carefully about whether you are ready for the treatment, it's also important to speak to your ophthalmic surgeon about any questions or concerns you may have.
With that in mind, we've compiled a selection of questions which you should ask yourself and your surgeon before opting for surgery.
Questions to ask yourself before laser eye surgery
Do you really need the treatment?
You should never undergo any kind of surgical procedure unless you really need it. Although laser eye surgery is very safe, you should think carefully about whether it is the right option for you. Discussing this with your practitioner will help you to get a clearer picture of how suitable laser eye surgery is for your individual needs.
Has your eyesight been stable for the last year?
Before opting for treatment, you will need to assess your eye health over the last year. The stability of your prescription for glasses or contact lenses is usually the clearest indicator.
Is laser eye surgery compatible with your lifestyle?
How could your work life, hobbies and sporting interests be affected by laser eye surgery? And will you reap the maximum benefit from the procedure?
Are you clear on the reasonable expectations of the treatment?
Laser eye surgery has an incredibly high success rate, with only a tiny percentage requiring further treatment. However, it's not a 100% cure and your eyesight will always evolve with the aging process. You need to be clear about how laser eye surgery will work for you, both now and in the future.
Have you allowed for recovery time?
The immediate effects of laser eye surgery mean that you cannot drive, so will need to be helped home. Your vision will usually be blurry for a period of a few weeks, improving over time, with optimal eyesight being established after three to six months. You need to allow ample time for recovery without putting too much physical strain on your eyes.
Download Information Pack
Learn more about how our latest vision correction techniques could improve your vision and change your life. Or Book Free Consultation.
Questions to ask your laser eye surgeon
Do they have the best possible training in refractive surgery?
It is very important that your surgeon has fellowship training in the procedure, as this demonstrates that they are skilled to the highest level. At Optegra, all of our laser eye surgeons are Fellows of the Royal College of Opthalmologists or equivalent organisations, so you can be sure that you're in expert hands.
How many procedures have they carried out in the past year?
Even the most skilled and knowledgeable surgeons have to practice. An experienced surgeon will usually carry out about 300 or more procedures a year. However, quality is more important than quantity, so make sure you ask to see the surgeon's personal surgical results (as distinct from the wider practice's).
What results can you expect?
Most people who undergo laser eye surgery obtain 20/20 vision. Almost everyone benefits from a significant improvement that meets the legal requirements for driving. However, all surgery is dependent on individual circumstances and your eyes are always subject to natural development over time. The numbers are extremely positive but be aware of any doctor making claims without giving you the full picture.
Will glasses or contact lenses be required after surgery?
Patients who suffer from conditions such as presbyopia may still need to wear glasses or contact lenses for some activities, even after treatment. The overwhelming majority of patients will not require glasses after surgery but you may find laser eye surgery reduces your dependency on glasses rather than replacing them altogether.
How long do the results of surgery last?
Most patients still benefit from at least 20/25 vision ten years after surgery, but the ageing process does lead to deterioration of eyesight. So while the effects are permanent, you are not guaranteed perfect eyesight for life.
Will you need aftercare?
The vast majority of patients experience a significant improvement in their vision following laser eye surgery, but around 2% of patients can experience some complications due to under or over healing of the cornea. In these cases, you may require further treatment. If you have any concerns after your surgery, please get in touch with us as soon as possible to arrange an appointment with your ophthalmic surgeon.
How many patients are suitable for laser eye surgery?
Not all people are suitable for laser eye surgery, with around 10% of people not considered for treatment. If your surgeon tells you it can work for everyone, then you may need to ask further questions.
Book Your Free Laser Eye Surgery Consultation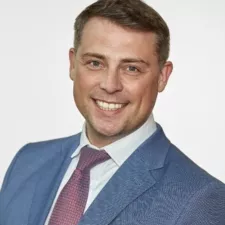 Mr Shortt is a leading ophthalmic surgeon and an expert in the fields of cornea, cataract and refractive surgery.