Medically reviewed on 17-August-2023
It's one of the safest and most regularly performed operations in the world – with over 3 million people in Europe going on to enjoy the life-changing benefits of having their vision transformed with lens replacement every year.
If you've worn glasses, or contact lenses for a long time –– it may seem too good to be true that you'll be able to reduce or completely remove your dependence on them after lens replacement surgery, but that's exactly what this sophisticated eye operation will enable you to do.
Advantages of lens replacement:
Ability to treat strong prescriptions
A permanent solution to a variety of eyesight problems
Low complication rates rate due to advanced technology
You will not develop cataracts later in life
We know eye lens replacement surgery can seem confusing, so to help you decide whether it's the right treatment for you, we've put together this handy FAQ to the facts about lens replacement.
1. Lens replacement surgery isn't just for removing cataracts
One of the main advantages of lens replacement surgery is that it can remove cataracts, but you don't have to have cataracts to benefit from the surgery. The treatment can also be beneficial for people who are at high risk of developing cataracts in the future, or individuals with other vision problems who are unsuitable for laser eye surgery or at the stage in life where cataracts are developing.
Lens replacement can be used to correct a wide range of visual errors, including:
2. It gets proven results
Here at Optegra, we see the great results our patients get from lens replacement surgery every day – but don't just take our word for it. Take a look at our lens replacement surgery reviews to hear more about the great results our previous patients have enjoyed.
"My life changed for the better after lens replacement (Clarivu) – at Optegra in Manchester. Prior to surgery, I was so short-sighted I needed 'bottle-bottom' glasses and couldn't see my hand in front of my face without specs or contacts. The results of the surgery were magical for me, colours were brighter, vision was 20/20 and I cried when I took my eye bandage off as the results were instant. My Mum was with me and she cried too as she knew how long my vision had been adversely affected. Since the surgery it has spurred me on to lose weight, keep fit and look after myself. I can swim, cycle and run without thinking about which pair of glasses to wear. The investment for me in the surgery is priceless. I received excellent service and aftercare, too."  Sharon Benson
3. Eye lens replacement surgery is very safe
Lens replacement is one of the safest medical procedures you can have, and there are millions of these operations performed throughout the world every year. Like all surgical procedures, there are some possible complications to be aware of, but these are rare and usually resolved easily with additional treatment. The risk of complications is also lowered if you choose a reputable treatment provider with the very best staff and facilities, like Optegra. We are the UK's number one trusted eye care provider according to TrustPilot, so when you choose to have your surgery with us, you know you're in the very best hands.
4. Lens replacement is suitable for over 50s
If you're over 50, you may have found that you've been turned down for other treatments such as laser eye surgery to correct your visual problems. Lens replacement is a great alternative treatment, and unlike laser eye surgery it has the bonus of preventing you from ever needing surgery for cataracts.
5. Treatment is painless
Lens replacement surgery is performed using local anaesthetic, so you won't feel any pain during the procedure. It is very important that you are able to relax during the procedure, so if eye surgeries bother you, consult your doctor to prescribe a mildsedative.
After your treatment, it is normal to experience some soreness, itching, dryness and mild discomfort for the first day or two as the anaesthetic wears off, but this will soon pass.
Download Information Pack
Learn more about how our latest vision correction techniques could improve your vision and change your life. Or Book Free Consultation.
6. Surgery time is extremely quick
Due to advancements in eye surgery technology and the non-invasive procedure that is used for lens replacement surgery (we use the latest femtosecond laser technology), refractive lens exchange has an extremely high success rate, and the whole process is completed in between 15 and 30 minutes per eye. You can also choose to have the two eyes done at separate occasions, reducing the individual surgery time even further.
7. Recovery is quick
Your vision will gradually improve over the first couple of weeks following treatment, with optimum vision usually being reached after around 4-6 weeks. During the recovery period you will be given antibiotic and steroid eye drops to aid the healing process.
Most people return to work around three days after having lens replacement surgery, although this will depend on the nature of the work you do.
Vast majority of patients gain their full legal driving standard eyesight back within a few days of their surgery, however general advice is to wait until you are fully confident behind the wheel before returning to driving.
Want to know more about lens replacement?
If you'd like to find out more, why not come along to a consultation at your nearest Optegra eye hospital? You'll be able to look around our state-of-the-art facilities, meet our friendly team and ask any questions you may have about the treatment.
In the meantime, take a look at our lens replacement surgery report, which explains some of the most common queries about the treatment.
How to find out if lens replacement is right for you 
For a personalised assessment of whether lens replacement surgery is right for you, head to one of our nationwide eye hospitals for a detailed one-to-one consultation with one of our world-class eye surgeons. All consultations are free and there is no obligation to book further treatment.
During your consultation, you'll receive a full eye assessment along with an individual recommendation from your consultant on the best course of treatment for your needs. You will also have the opportunity to discuss any concerns you may have about the procedure directly with the surgeon who will perform your lens replacement surgery.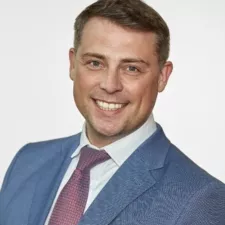 Mr Shortt is a leading ophthalmic surgeon and an expert in the fields of cornea, cataract and refractive surgery.
Medically Reviewed Date: 17th August 2023