Medically reviewed on 17-August-2023
When it comes to laser eye surgery, the developments in laser eye surgery have been extraordinary. Treatments have become significantly less invasive and require shorter recovery periods. And most importantly of all, new laser eye surgery treatments are available to more people and are more successful than ever before.
The latest laser eye surgery procedure
The latest development in laser eye surgery is ReLex SMILE. This is a minimally invasive, bladeless form of keyhole laser eye surgery which offers a superb alternative to more traditional forms of surgery.
Established treatments such as LASIK and LASEK have helped thousands of people to enjoy the benefits of improved vision, but they aren't suitable for everyone. The introduction of ReLEx SMILE therefore means that even more people can qualify for vision correction. ReLex SMILE uses the latest techniques, and there's no doubt that it points the way towards the future of laser eye surgery.
SMILE stands for Small Incision Lenticule Extraction. The very name gives a clue as to why this is a preferred treatment for many patients and surgeons. The process is minimally invasive, requiring a much smaller incision in the eye than any other treatment. It is capable of correcting higher degrees of myopia, and it's suitable for individuals with or without astigmatism.
Why choose ReLEx SMILE eye surgery?
ReLEx SMILE surgery has a number of benefits, including:
Our ReLEx SMILE eye surgery uses a state-of-the-art Carl Zeiss VisuMax laser with extraordinary 3D accuracy. This allows surgeons to be incredibly precise, as they create bubbles on the cornea measuring less than a hundredth of the width of a human hair. This helps to ensure that the results of the treatment are highly effective.
Fast treatment and recovery times
SMILE surgery can be carried out in around 15 minutes per eye, and recovery times are quicker than with some other methods of surgery, so it's an ideal option for anyone who leads a busy life and can't afford to take too much time out. As the treatment is minimally invasive, less time is needed for healing. However, as always you are advised not to rush your recovery and give your eyes a chance to recover fully for maximum benefit.
Lower risk of complications
SMILE surgery is better for the stability of the cornea than more invasive forms of eye surgery, and no flap is created so there's no risk of flap complications. Because such small incisions are made, healing is fast and there is less risk of infection and potential problems.
With more invasive forms of eye surgery, patients can experience dry eyes and discomfort as the eyes heal. With ReLEx SMILE surgery, there is less risk of developing dry eyes and discomfort is kept to a minimum, due to the fact that the incisions made in the cornea are so minimal. During the course of the surgery itself, your surgeon will also use anaesthetic eye drops to ensure you feel no pain whilst the procedure is carried out.
More people can benefit from treatment
As SMILE surgery is so minimally invasive, more people are suitable for treatment. For example, if you have naturally dry eyes or a thin cornea, you may have been told that you can't have other types of laser eye surgery, but ReLEx SMILE could still be an option.
Download Information Pack
Learn more about how our latest vision correction techniques could improve your vision and change your life. Or Book Free Consultation.
How ReLEx SMILE surgery works
The principles behind ReLEx SMILE surgery are similar to other vision correction procedures, but the equipment and methods used are slightly different.
In a ReLEx SMILE procedure, the incision is made using a state-of-the-art Carl Zeiss VisuMax laser, which places a series of pulses on the centre of the cornea. These pulses are incredibly accurate and form tiny bubbles around a hundredth of the width of a human hair. The laser then makes a small connecting tunnel through which the surgeon can remove tissue to reshape the cornea. Unlike some other procedures, no flap is created so patients don't need to worry about flap complications.
The whole process takes less than 15 minutes per eye, and vision is typically 80% better within just a few hours. Within a few days, your vision will have improved even further, reaching 100% improvement after a few weeks according to patient trials. Although recovery time is generally very fast, it's important to note that you may experience some side effects such as blurry vision in the initial period following treatment, which will improve as the eye heals. At Optegra, we offer comprehensive aftercare to track your progress and ensure that everything is healing as it should.
Where can you have ReLEx SMILE surgery?
Optegra are a few of the places in the UK where SMILE is available.
If you'd like to know more about SMILE eye surgery and how it could benefit you, pop in for a free one-to-one consultation to get personalised advice on the best treatment option for your needs.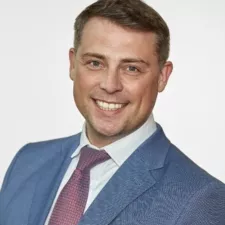 Mr Shortt is a leading ophthalmic surgeon and an expert in the fields of cornea, cataract and refractive surgery.