LASEK is a method of laser eye surgery, which is available for those who are unable to have LASIK treatment. LASEK is generally suitable for people with less serious eye focusing problems, thin corneas, or dry eyes.
What is LASEK eye surgery?
LASEK (laser assisted epithelial keratomileusis) is a type of laser eye surgery, often used as an alternative treatment for those who are not suitable for LASIK eye surgery. This treatment involves the fine surface layer of the cornea being loosened and folded back, instead of a flap being created and removed, as is the case with LASIK treatment. An Excimer laser is then used to reshape the surface of the cornea, thus correcting the eye's refractive error.
LASIK is the preferred laser eye treatment by most, as visual recovery with LASEK can be slower, and bandage lenses need to be worn for up to a week. The eye can also be uncomfortable for a few days after treatment. However, not everyone is suitable for LASIK, for instance if your corneas are too thin or flat for LASIK treatment, and, therefore, LASEK eye surgery may be able to offer a great alternative.
Benefits of LASEK eye surgery:
Great alternative to LASIK treatment
Results are proven and comparable to LASIK
Less chance of dry eye
Lower risk of flap complications
Sporting activities may be resumed sooner than with LASIK, as there is no flap to heal
LASEK eye surgery from Optegra
One of our experienced ophthalmologists will carry out an in-depth assessment to determine whether you should have LASEK or LASIK eye surgery. This will be the same surgeon that carries out the treatment and the aftercare. We always put together a 100 per cent individually tailored plan, ensuring the best possible results.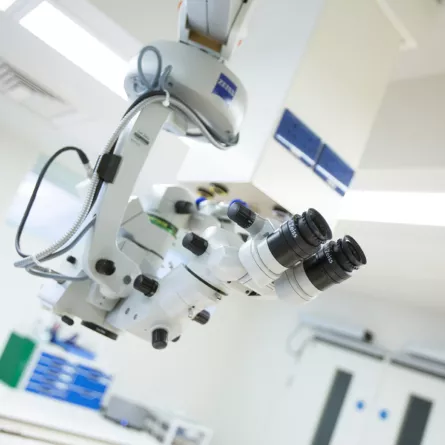 What happens during LASEK eye surgery
Local anaesthetic eye drops are applied to both eyes.
A mild ethanol solution is applied to the cornea's protective outer layer. This softens the layer and creates a thin epithelial layer, which the surgeon then moves to one side.
The Excimer laser is applied to the eye, correcting the refractive error by reshaping the cornea.
The eyes are covered with bandage lenses, which are clear, soft contact lenses. This protects the epithelial cells while they grow back to cover the cornea. The bandage will stay in place for up to a week, depending on how quickly the eye heals.
Other laser eye surgery options
As well as LASEK eye surgery, at Optegra, we also offer other laser eye treatments, including:
Click the links above to learn more about each type of laser eye surgery available. If you would like to book a consultation to find out what type of laser eye surgery would be best for you, please contact us.
Free Information Pack Download
Download a free infopack
Not ready for a consultation? Learn more about our range of treatments, doctors and hospitals.
Information pack
Free Virtual Consultation
It takes under a minute to book your virtual consultation with UK's top rated vision correction clinic
Book Now
Call us free
We'll answer any questions you may have about treatment.
0808 163 5845
Lines open Mon-Thu: 8am-7pm, Fri: 8am - 5.30pm, Sat: 9am-4.30pm