Refractive Lens Exchange (RLE), also known as Lens Replacement surgery, is still something of a mystery to many.
Cataract surgery, however, is very well known.
So it may come as a surprise to know that in fact lens replacement is essentially the same thing as cataract surgery.
It is a commonly performed, routine operation, with thousands carried out every week in the UK. SO how do they differ? Lens replacement surgery involves performing cataract surgery before the development of a cataract, but once the natural lens of the eye has hardened and so affected vision. We are removing the natural lens before it ages and turns into a cataract.
A second, important step in the procedure is that after removing the natural lens, the eye is out of focus and a synthetic plastic lens implant must be used to refocus the eye. Now, these lens implants come in all sorts of different shapes, sizes, strengths, and different focusing abilities. When we perform refractive lens exchange or lens replacement, we tend to use what's called the multifocal lens implant to correct the eye.
The huge advantage that these multifocal lens implants give you over standard cataract lens implants – like the ones used every day on the NHS – is that they allow you to see clearly at any distance. You can see in the mid-range, which is computer and television range, and also close-up, to be able to read without needing reading glasses. So you get all of these ranges of vision when you've had multifocal lens implants and lens exchange.
Download Information Pack
Learn more about how our latest vision correction techniques could improve your vision and change your life. Or Book Free Consultation.
RLE is similar to cataract surgery in many ways, but there are significant differences. In both cataract surgery and RLE surgery, I remove the natural lens of the eye and permanently replace it with an artificial intraocular lens (IOL).
RLE differs in that it requires:
more sophisticated pre-operative testing to measure the eye's optics,
more sophisticated lens implants such as multifocal and toric lens implant, and
an experienced surgeon with very low complication rates.
Furthermore, you need a surgeon who is also experienced in laser eye surgery because up to 5% of patients who undergo refractive lens exchange require a minor laser eye surgery procedure to fine tune the vision and achieve the very best outcome.
Mr Alex J Shortt is an Optegra Consultant Ophthalmic Surgeon, and an expert in the fields of cornea, cataract and refractive surgery. To learn more about RLE and discuss your suitability, book a free consultation with Optegra today.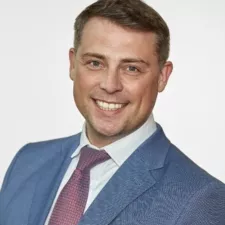 Mr Shortt is a leading ophthalmic surgeon and an expert in the fields of cornea, cataract and refractive surgery.